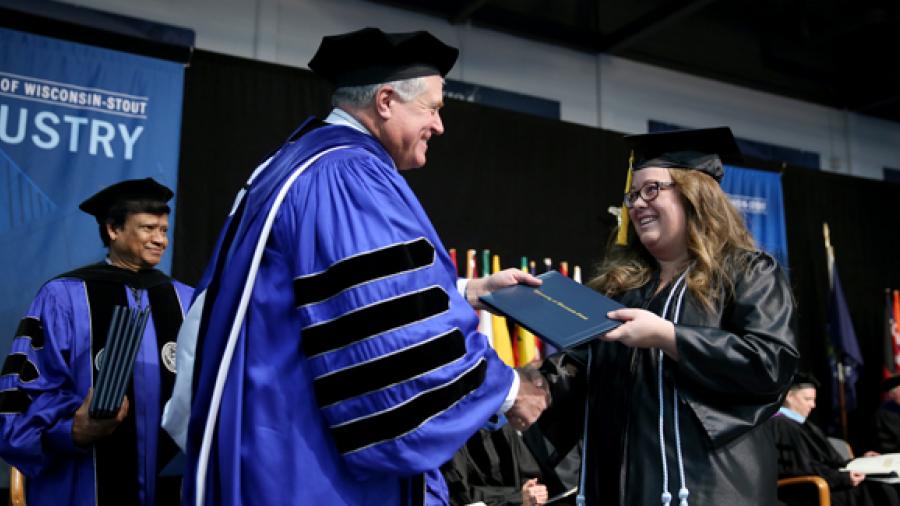 The University of Wisconsin-Stout's designation as a polytechnic university has come to life over the past decade, and "it really has become an integral part of who we are as an institution," Chancellor Bob Meyer told about 750 graduates at two commencement ceremonies Saturday, Dec. 16.
Meyer told the graduates that the designation as Wisconsin's Polytechnic University, granted by the UW System Board of Regents in 2007, was intended to "better define the historical 'special mission' that the university had within the larger UW System. Now 10 years later, it would be hard to imagine UW-Stout without this important designation."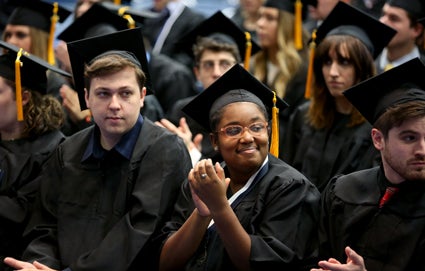 Three tenets help define what a polytechnic university means at UW-Stout, Meyer said, including "our intense and successful career focus." UW-Stout prides itself on "how well we prepare our students to 'hit the ground running' in their professional lives and endeavors," Meyer said, pointing to the fact that 97.4 percent of all graduates are working within six months of leaving campus.
The second tenet is the university's applied learning approach to education, with three times as many laboratories as classrooms, Meyer said, "so our students get an abundance of hands-on experiences, along with their classroom instruction."
The final tenet concerns collaboration with business, industry and other educational institutions and means, for example, that more than 1,000 UW-Stout students a year spend a semester in their field of study to get real-world experiences through the university's Cooperative Education program.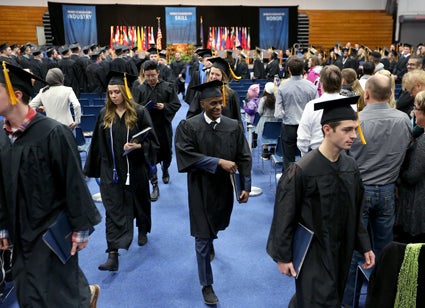 "One of the many misconceptions about polytechnic universities, at least in areas like the Midwest where they are a rarity, is that we are some type of glorified technical college," Meyer said. "I'm a former technical college president, and I'm here to tell you that UW-Stout is not a glorified technical college. We are a regional university that offers a comprehensive curriculum in many fields, including the liberal arts."
Patrick Guilfoile, provost and vice chancellor for Academic and Student Affairs, presided over the ceremonies.
Deans of the colleges and Graduate School Director Renee Chandler presented the diplomas, and Meyer conferred the degrees to 749 undergraduate and graduate students.

Mesa Covill, senior alumni officer, welcomed the graduates into the Stout Alumni Association.
Music was provided by the university's Symphonic Band and Jazz Orchestra, directed by Aaron M. Durst. Choral selections were performed by the university's Symphonic Singers and Chamber Choir, directed by Jerry Hui.
###

Photos

Top: Chancellor Bob Meyer congratulates graduate Grace Sutula as she crosses the stage at commencement Saturday, Dec. 16, in Johnson Fieldhouse. Sutula earned a degree in applied mathematics and computer science.
Middle: Graduates clap during the morning ceremony Saturday.
Bottom: Graduates, with diplomas in hand, exit Johnson Fieldhouse after the Saturday morning ceremony.