Chancellor Katherine Frank told the UW System Board of Regents that she is proud of the work UW-Stout is doing to serve the needs of Wisconsin — but she believes the university can do much more.
With increased support from the state, such as approving the renovation of Heritage Hall and for distinct challenges related to being a polytechnic university, UW-Stout can turn out more graduates to meet the state's growing workforce needs, she said March 30 during her presentation "Fueling the Workforce through the Polytechnic Advantage" on the opening day of the Regents meeting on campus. The meeting wrapped up Friday, March 31.
"Adhering to our mission and fulfilling the promise we have made to our students and to the state is our job; it must be the outcome of this institution's work on behalf of the state of Wisconsin," Frank said. "The fact of the matter is that we could be producing even more graduates to fill high-need workforce areas across the state with the appropriate investment in our institution."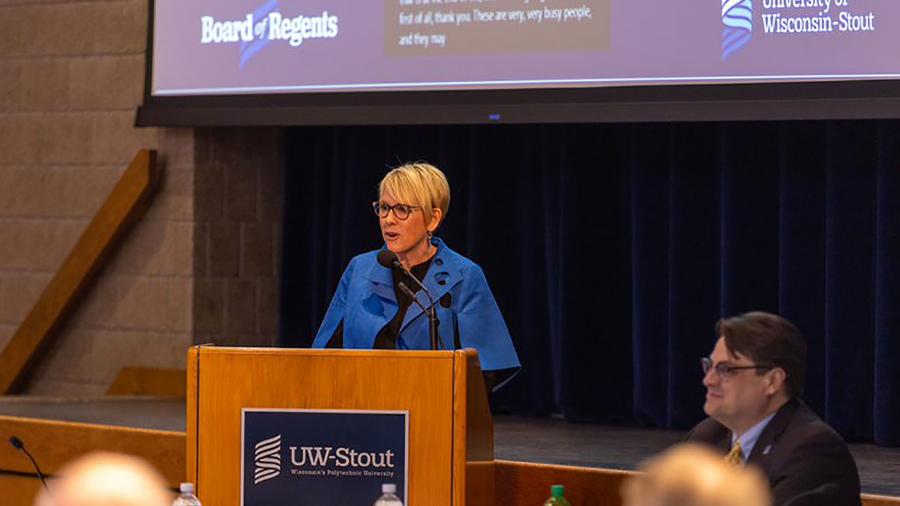 UW-Stout is producing impressive results: Nearly 60% of graduates remain in Wisconsin, and the employment rate of recent graduates has risen to 99.4%, based on a new First Destination report. The 99.4% includes success for first-generation students — more than one-third of those enrolled at UW-Stout — and veterans.
In her presentation, Frank noted that just 3% of U.S. universities are classified as polytechnics. She cited several other polytechnics, such as Michigan Technological University and Cal Poly Humboldt, which are smaller than UW-Stout but receive significantly more state funding.
"The philosophy of and approach to learning at a polytechnic university are different than at traditional comprehensive universities," she said. "An investment in Stout is a sound investment in meeting workforce needs not only in this region, but also across the state," she said.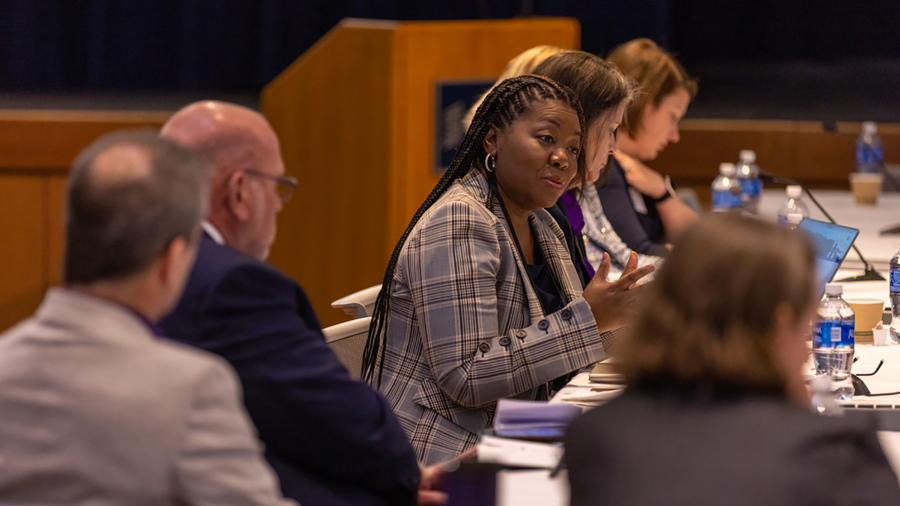 "Again, the reasons for this tie back to our mission and the work that supports it. Workforce readiness and leadership is what we do, it's in our DNA as an institution, from our earliest beginnings."
Frank cited UW-Stout's three educational tenets — applied learning and research, career focus and collaboration with business and industry — as the foundation of its workforce readiness approach to higher education.
"While comprehensive universities are beginning to embrace hands-on learning, UW-Stout emphasizes applied, project-based learning with career-focused outcomes that has been part of our educational philosophy for more than 130 years. We reinforce that students' learning environments will be the labs and studios that outnumber traditional classrooms on our campus by three to one."
Frank emphasized the importance of Heritage Hall, UW-Stout's top capital project, to the university's mission. She thanked the Regents for their "recognition of this critical major renovation and your continued advocacy for enumeration of this project in the 2023-2025 biennial budget.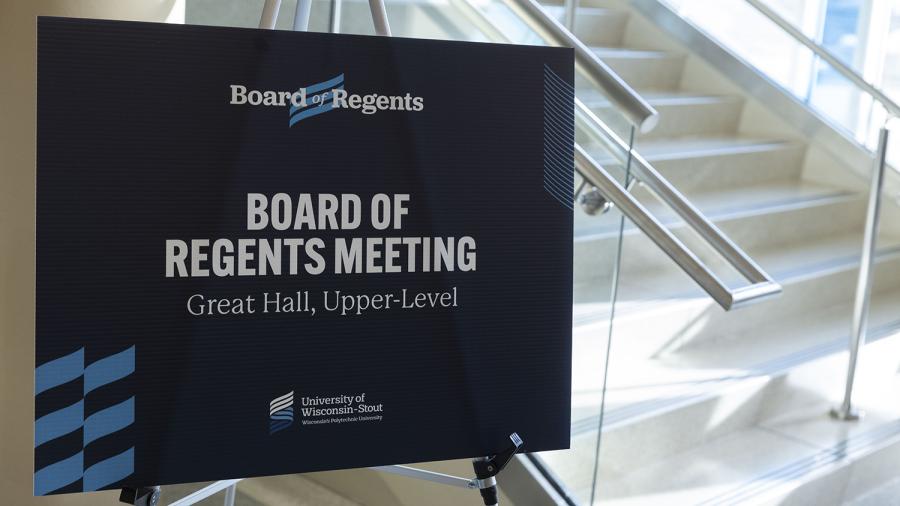 "It will transform a dying 50-year-old home economics building into a state-of-the-art learning facility that addresses the high-need workforce areas of child care, mental health and wellness, and tourism and through cross-sector connections helps to support the workforce challenges of other sectors like manufacturing," she said.
After presenting, Frank led a panel discussion of five people who represented four workforce sectors in Wisconsin, health care, manufacturing, tourism and public service. Four of the panelists were alumni whose programs are based in Heritage Hall:
Jeff Bzdawka, CEO, Knowland Group, 1985 UW-Stout graduate in hotel, restaurant and tourism management 

Rep. Clint Moses, 29th Assembly District, 1999 UW-Stout graduate in psychology 

Amy Sheehan, director of Talent Acquisition, Hormel Foods Corporate Services, 1993 UW-Stout graduate in hotel, restaurant and tourism management 

Toni Simonson, executive director, Behavior Health, Western Wisconsin — Hospital Sisters Health System and Prevea Health, 2000 UW-Stout master's graduate in guidance and counseling 

Mark Tyler, founder and chairman, OEM Fabricators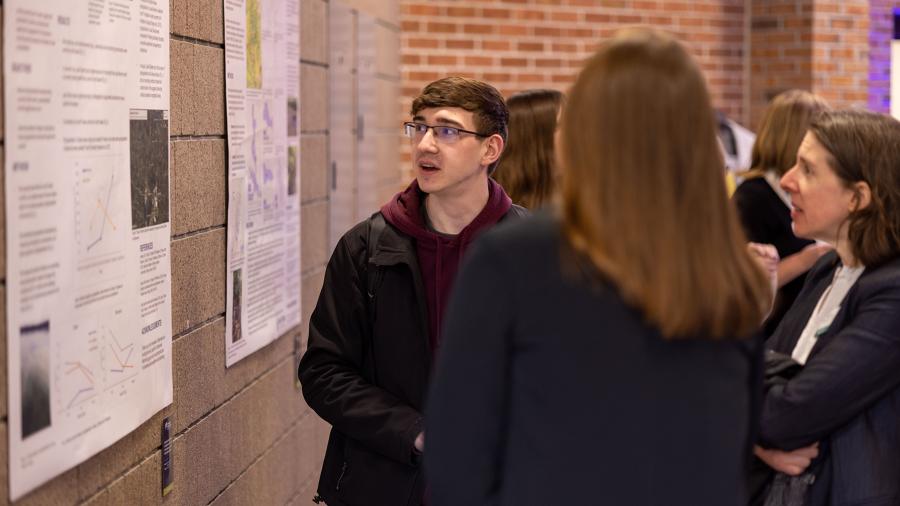 The panel reinforced the value of UW-Stout's polytechnic education and its Heritage Hall project by addressing the specific challenges facing their industries; how UW-Stout helps the state address workforce needs; how well UW-Stout prepares graduates for the workforce; and how their industry sector is changing and what institutions like UW-Stout can do best to prepare students to work within those sectors.
Student Polytechnic Showcase, other presentations
After the opening day of the meeting at the Memorial Student Center, the Regents, UW System President Jay Rothman, other officials and guests from around the state visited a student Polytechnic Showcase in Micheels Hall, Jarvis Hall Tech Wing and Jarvis Hall Science Wing.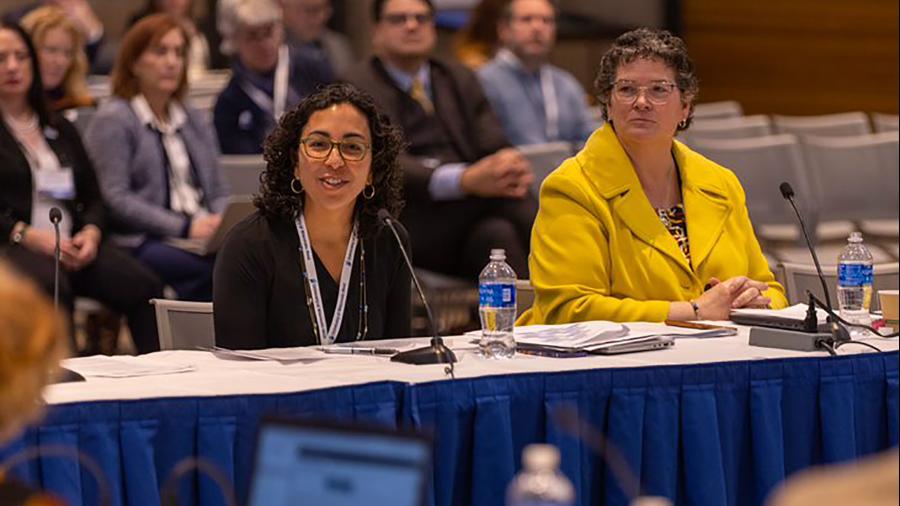 The event featured STEM-based research, innovation and creative work by more than 50 UW-Stout students and their faculty advisers. Academic areas represented include science, engineering and math; human and social sciences; art, design and graphics; business and management; and information, technology and communications. 
All UW-Stout undergraduate and graduate programs incorporate project-based experiential learning components, such as applied research, co-ops, internships and field experiences. 
Interactive tours of UW-Stout, including engineering and construction labs, were available during the showcase. 
In addition on Thursday, five UW-Stout administrators presented at three committee meetings: business and finance, education, and capital planning and budget. They include Glendalí Rodríguez, provost; Erik Guenard, vice chancellor of Business, Finance and Administrative Services; Sandi Scott, dean of students; Justin Utpadel, Facilities Management director; and Kristi Krimpelbein, head of staff.  
A presentation about the Wisconsin Intercollegiate Athletic Conference and panel discussion included Commissioner Danielle Harris, UW-Stout Athletic Director Duey Naatz and student athletes.
###