Ryan Knudtson took a calculated risk when, at age 25, he decided to switch career paths and return to college for a second bachelor's degree.
Four years later, the University of Wisconsin-Stout graduate has seen that risk pay off in a big way with a national award and the type of job and career he had set his sights on.
Knudtson received the national Cooperative Education Student Achievement award April 2 in Chicago, and on April 22 he began work as a packaging engineer in research and development at General Mills. He will work with the company's iconic baking brands, such as Pillsbury and Betty Crocker, at the James Ford Bell Research Center in Golden Valley, Minn.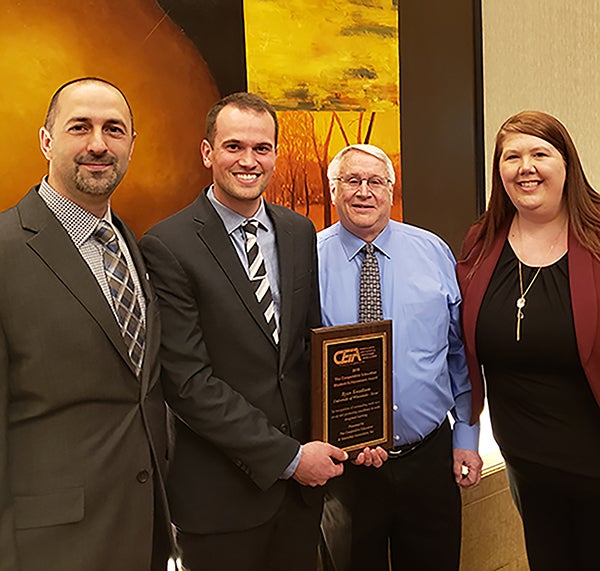 "My heart was set on a company like General Mills, and I'm excited to begin my new career with such an established corporation. I love the Minneapolis area," said Knudtson, who grew up south of Eau Claire in Strum.
The award, and to some degree the job, is a result of Knudtson's co-op from June to December 2017, at Johnsonville, the bratwurst and sausage company from Sheboygan Falls. In co-ops through UW-Stout's Career Services, students receive academic credit for paid positions related to their major.
Knudtson called it an "incredible experience. I will thank them forever for the opportunity," and he said it helped reaffirm that he was on the right career path.
He worked with Johnsonville's packaging team but also was exposed to many aspects of the operation, including marketing, product development and purchasing. "I worked with so many teams and individuals. I saw how packaging affected everything," Knudtson said.
Part of his support from Johnsonville included a recommendation for the national co-op award, which is from the Cooperative Education and Internship Association. He also had an internship in summer 2018 at Liberty Carton in Golden Valley.

President Julie Hutt said the CEIA, as a leader in work-integrated learning, is proud to recognize Knudtson. "Students like Ryan are leaders among their peers and represent the future workforce."
Kelly Harper, CEIA Region 4 Midwest vice president, said UW-Stout "has long been a leader in experiential education. We applaud their leadership and efforts to give quality co-op experiences to their students. The experience they have provided for this student to excel will last him a lifetime."
Along with a trip to Chicago for the award presentation, Knudtson received a plaque and $500.
"This award is nothing short of a spectacular example of what our program, faculty, students and university are doing. This puts our co-op program alongside a select number of schools in the country to receive the award, such as the University of Cincinnati, Drexel and Georgia Tech," said Bryan Barts, director of Career Services at UW-Stout.
Barts cited the work of Bethany Henthorn, coordinator of UW-Stout's co-op program, which had more than 1,000 students involved last year.
Going back to school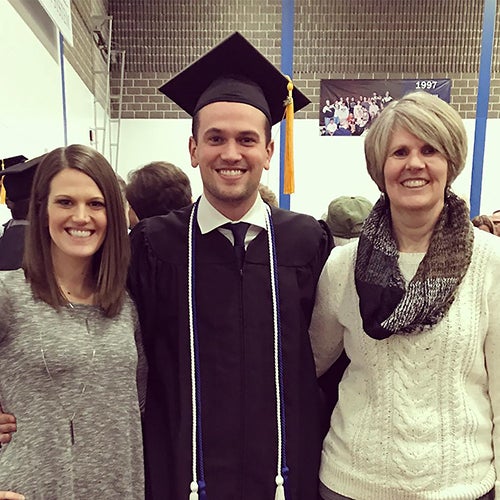 Knudtson graduated from UW-Stout in December 2018, 10 years after he graduated from Eleva-Strum High School.
He earned a degree from UW-La Crosse in middle-childhood and early adolescence education. Then, he taught sixth grade for one year in the Royall school district in Elroy and eighth-grade math for two years in the Hudson school district.
"It came down to do I see myself teaching for the rest of my life? No, I didn't. I knew of the packaging program and had friends going to school at Stout. I decided to go forward and haven't looked back," he said.
"It was a tough decision at the time, when you have to go through some of the general education programs. My dad said to do it now because if you don't you'll look back and say, 'Why didn't I do that? The time went by so fast," he said.
His father, Ron, died soon after that of a heart attack in 2015.
Knudtson excelled at UW-Stout. He received the Chancellor's Award every semester for academic achievement and graduated with honors. He took a first place and two seconds in national student packaging competitions. As a harbinger of landing his job with General Mills, one of his award-winning designs was a new type of cereal box.
At Johnsonville, he worked under packaging engineer Jason Foss, a UW-Stout alumnus. Knudtson first met Foss and learned about the Johnsonville co-op at a UW-Stout Career Fair.
"The Career Fair was an awesome avenue to link me to Johnsonville and get me to that position. Career Services does so much for the thousands of students on campus. It's a huge gem of the university," Knudtson said.
In the most recent Career Services employment report, 98.7 percent of UW-Stout graduates had jobs or were furthering their education within a year. Bachelor of Science packaging program graduates reported 100 percent employment.
###
Photos
Ryan Knudtson, a Strum native, celebrates his national Cooperative Education Student Achievement award presentation April 2 in Chicago with, from left, Bryan Barts, UW-Stout Career Services director; Doug Church, packaging engineer at Johnsonville, where Knudtson had his co-op; and Bethany Henthorn, UW-Stout co-op program coordinator.
Ryan Knudtson celebrates his December 2018 graduation from UW-Stout with his sister, Bethany Halama, and his mother, Emily.