A bit of advice from home coupled with an opportunity at UW-Stout have taken Maxwell Corner a long way — part way around the world and back, to be exact.
Corner, of Hugo, Minn., is a senior in the business administration program. Last fall he studied abroad with the blessing of his parents, who had always encouraged him to see the world if the opportunity arose. "My dad said you start living life at the edge of your comfort zone," Corner said.
Through an exchange program at UW-Stout's Office of International Education, he flew to England not knowing anyone and spent the semester studying at the University of Westminster in London. He returned home in mid-January to begin his final semester at UW-Stout.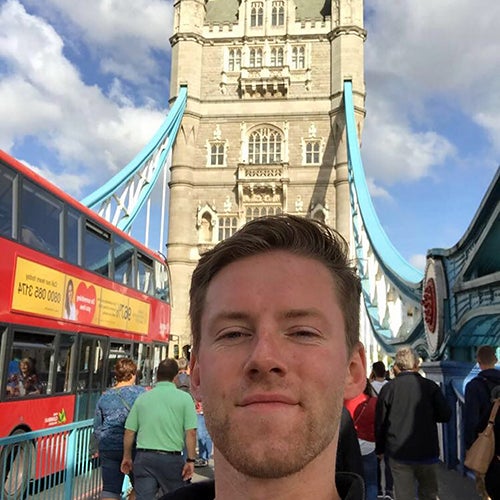 "I wanted to break away and see something new, be in a new place and meet new people. It was the most incredible experience," he said. "I'm really glad I took that chance."
Corner will be available to talk about Westminster during the campus Study Abroad Fair, which will be held from 9:30 a.m. to 2:30 p.m. Thursday, Feb. 7, in the ballrooms of the Memorial Student Center.
His semester in England was all he had hoped it would be and probably more. He took 12 credits to stay on track academically and had plenty of time to explore cosmopolitan London. He also visited the Netherlands, Scotland and Ireland.
His brother, Graham, a mechanical engineering major at UW-Stout, and parents came to visit over the holidays, with Graham staying for a month. Maxwell was their tour guide.
"I fell in love with the city, from the architecture to the food scene and the history ingrained in the city. I loved the culture. The people are very welcoming, and it's a very clean city. The nightlife is incredible," Corner said.
What really made the trip special, however, were the friends Corner made. With students from around the world at Westminster, along with students from England, he truly had an international experience while in an English-speaking country.
"I have friends from all over the world now. I made connections on every continent," he said, adding that some of them plan to visit him in Minnesota and vice versa. "One of the biggest things was the friends I made and the things we did together. The experiences wouldn't have been the same without them," he said.
Within his business administration program, Corner is concentrating on sales and marketing. After his study abroad experience, he is considering working for a company that has international sales and would consider dual citizenship in England.
The experience in London has opened his eyes in many ways, including the importance of pushing yourself.
"Be willing to take a risk and you'll be rewarded. There are so many unknowns in life, but you can't let it hold you back. So much of the thought process today is that we fear what we don't know, and that's so sad. Being comfortable with the uncomfortable is a pretty cool deal," he said.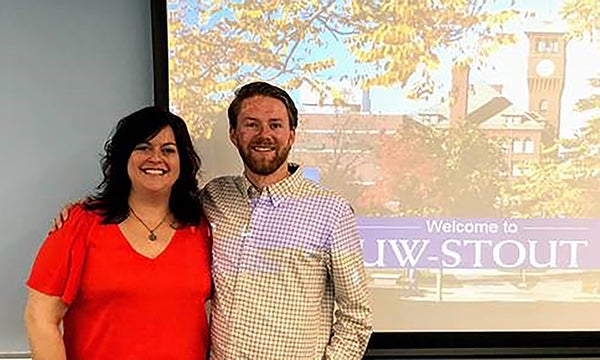 Andria Morse, the interim assistant director of study abroad for UW-Stout's Office of International Education, gave a presentation about UW-Stout at Westminster in the fall, and she was joined by Corner.
Morse and student Megan Luedke, who studied in Germany, recently were featured in podcasts about study abroad experiences. Luedke, of Ogdensburg, is a senior in graphic arts and interactive media.
Study abroad opportunities
More than 200 UW-Stout students studied in 19 countries during the 2017-18 academic year, Morse said, with additional students taking advantage of short-term opportunities during the summer and between semesters.
"There are many benefits to studying abroad, and research conducted by the Institute of International Education shows that it has long-term impacts on students' career progression, promotion and job offers," Morse said.
"Studying abroad allows students to gain soft skills that employers are seeking such as intercultural communications, language skills, adaptability, flexibility, problem-solving, confidence, team-building, learning a new culture and meeting people from a variety of countries and ethnic backgrounds. Students also network with future employers and seek out internships," Morse added.
UW-Stout is focusing on making study abroad more accessible with new budget-friendly programs at universities in Spain, Korea and Costa Rica, generally at a cost that is equivalent of attending UW-Stout.
Also, a Study Abroad Scholarship Fund has been established through the Pathways Forward campaign to help more students become involved in the future.
###
Photos
Maxwell Corner takes a selfie on the Tower Bridge in London while studying at the University of Westminster last fall.
Maxwell Corner, second from left, enjoys a holiday celebration in Europe with other international students.
Andria Morse and Maxwell Corner give a presentation in London about UW-Stout.