The goal of a book fair hosted by a group of UW-Stout students is to help local children.
The Aspiring Educators of Wisconsin Book Fair, hosted by the campus chapter of the organization, is scheduled from 10 a.m. to 5 p.m. Tuesday, Nov. 27, to Friday, Nov. 30. It will be in the Memorial Student Center the first two days and Heritage Hall lobby the second two days.
The fair, open to the public, will feature books and educational materials published by Scholastic for children through the sixth grade.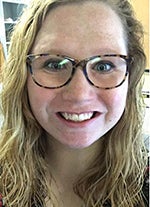 "We are passionate about Scholastic's mission to help children become avid readers and lifelong learners," said Bailey Sanford, chapter president. "More importantly, this event provides students, teachers and parents with access to thousands of affordable books and educational products."
The fair will help children in a second way, as well. Profits will be donated to the Foster Closet of Menomonie. The Foster Closet provides clothes, toiletries, food and other items for foster children in Dunn, Eau Claire and Chippewa counties.
The Aspiring Educators of Wisconsin chapter has more than 20 members this fall. Most students in the chapter are from programs in the School of Education, but it includes some from human development and family studies.
Several members of the chapter have volunteered at Foster Closet.
"We're trying to donate as much money as possible," said Sanford, of Owatonna, Minn., a senior who is majoring in early childhood education. "We're hoping we can sell a lot with the holidays coming up."
Approximately 7,500 children are in foster homes in Wisconsin. UW-Stout's Fostering Success program helps children from foster homes transition to higher education.
###
Photo
Bailey Sanford