A New York Times best-selling novelist will give a premiere reading of his forthcoming book at University of Wisconsin-Stout as part of the Chippewa Valley Book Festival.
Nickolas Butler will read from and discuss "Little Faith" from 6:30 to 7:30 p.m. Monday, Oct. 22, in the ballrooms of the Memorial Student Center. Admission is free.
"Little Faith," to be published in March 2019, is about a Wisconsin Family that "grapples with the power and limitations of faith when one of their own falls under the influence of a radical church," according to the publisher, HarperCollins.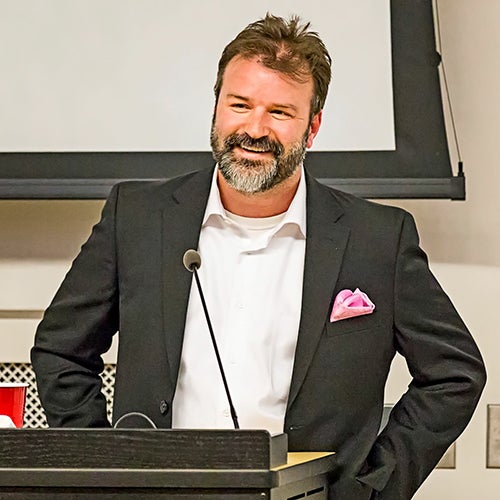 Butler, who lives near Eau Claire, has published two novels, "Shotgun Lovesongs" and "The Hearts of Men," along with "Beneath the Bonfire," a collection of short stories.
New York Times book critic Janet Maslin said Butler's debut work "Shotgun Lovesongs," published in 2014, was "impressively original," and People magazine called it a "must-read." The book received the 2015 Literary Award from Wisconsin Library Association's Literary Arts Committee and made the Times' best-seller list for fiction.
In addition to his presentation, Butler will speak in two English classes Oct. 22 at UW-Stout's Harvey Hall. Creative Writing led by Professor Kevin Drzakowski is reading "Beneath the Bonfire," and Honors Composition I led by Professor Lopa Basu is reading "The Hearts of Men."
The 19th annual Chippewa Valley Book Festival will feature 20 authors from Monday, Oct. 15, to Thursday, Oct. 25.
UW-Stout is a sponsor and is hosting an event for the first time since the festival began in 2000.
Butler's appearance is sponsored by the UW-Stout Literature Committee, the Chancellor's Office and the College of Arts, Communication, Humanities and Social Sciences.
Professor to speak
The festival also will feature Thomas Pearson, an associate professor of social science at UW-Stout.
He will discuss his book "When the Hills are Gone: Frac Sand Mining and the Struggle for Community," from 7 to 8 p.m. Wednesday, Oct. 24, at the Fall Creek Public Library.
The book was published in 2017 by the University of Minnesota Press.
###