Artwork by a University of Wisconsin-Stout alum and two faculty members is on display in three exhibits this summer in the Twin Cities.
The mediums include paintings, an installation and an online text video essay.
Leslie Barlow
A solo exhibit by Leslie Barlow, a 2011 studio art graduate, opened July 16 at the Minneapolis Institute of Art. "Leslie Barlow: Within, Between, and Beyond," features 16 paintings of mixed-race families and transracial adoptees, accompanied by video interviews with the subjects.
The free exhibit, which runs until Sunday, Oct. 31, at the U.S. Bank Gallery, "explores representation, race, family and belonging" and "invites us to hold space for, recognize and reconsider our presumptions about race in Minnesota," according to the institute.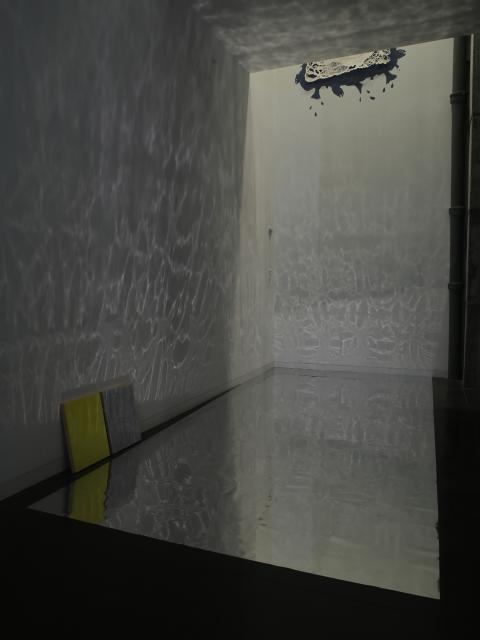 Barlow is a 2021 Jerome Hill Fellowship recipient, 2019 McNight Visual Artist Fellow and has pieces in the permanent collections of the Weisman Art Museum, Minnesota Museum of American Art and U.S. Bank Stadium.
Charles Matson Lume
An installation by Professor Charles Matson Lume is part of the exhibit Many Waters: A Minnesota Biennial at the Minnesota Museum of American Art that opened July 24 and runs through Saturday, Oct. 2.
The exhibit is "a look into some of the imaginative and dedicated ways that artists and culture-bearers from across the state are engaging with water," said the institute, noting the Mississippi River's headwaters are in Minnesota and the river flows through the Twin Cities.
Lume's art, "As if Nothing (for Bashō)," builds on his more than 20 years of creative work that investigates light. The piece, dedicated to the 17th century Japanese haiku poet, is made of proofing paper and two oil paints on panel.
"Ancient materials with contemporary ones create a sense of time that, like H2O, is both simple and necessary," said Lume, of St. Paul. "I connect Bashō's work and the theme of water via the beauty we seek in nature. This need of beauty, for me, seems innate. So many go to nature to find restoration and solace, and during the pandemic it feels vital."
Lume hopes his work creates "even a touch" of awe in those who see it. "Perhaps there is not enough awe in the world. Perhaps that beauty is sometimes 'as if nothing,', but it is, paradoxically, everything. Or that the piece is literally 'as if nothing' yet it can bring to viewers, I hope, a quality of light that illuminates the mind, body and spirit."
Lume is director of the School of Art and Design and interim associate dean of the College of Arts, Communications, Humanities and Social Sciences.
Darren Tesar
Artwork by Darren Tesar, a lecturer in the art and art history department, is part of a MnArtists online exhibit. His piece "_storation of limbs" is a "collage text video essay that bends perception, dislocates language and sketches phantom representations of the body," according to the website.
The work "can be understood as simply as a prolonged proximity maintained between entities, materials and/or processes" that produces a form of communication called a "pidgin" despite no common language.
MnArtists is part of the Walker Art Center.
###