Determined to fill a gap in his life, Dave Lytle returned to University of Wisconsin-Stout to finish a bachelor's degree he had started nearly 35 years earlier.
When he earned his online management diploma at age 56 in 2014 and crossed the commencement stage with his family cheering him on, it was a proud moment in his life.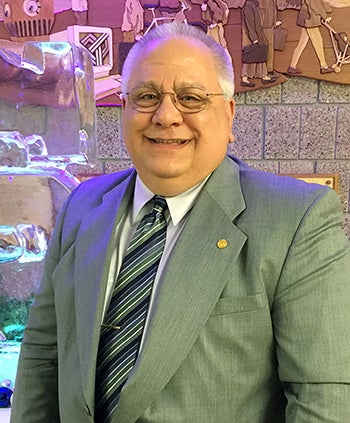 Lytle is doing his part to help other adult learners feel the same sense of satisfaction by creating the new FR Manson Dream Scholarship. It will provide $1,000 each year to a management student through Stout University Foundation.
"I see the scholarship as a form of positive reinforcement — hey, you're doing the right thing and it will pay off down the line," Lytle said. "When I came back to school, one of the things that helped me along the way was positive reinforcement. It just means so much to a student."
Lytle works full time as a digital print operator at American Family Insurance headquarters in Madison. He is married and has two sons. Many of the adult learners in the online management program have to make a special effort, like he did, to get their degree. The Finish My Degree program makes it possible.
"It took me four years to finish up my 41 credits. It's hard to juggle everything," Lytle said.
Giving back
Creating an endowed scholarship, meaning that once initial funding is complete it will be awarded in perpetuity, was easier and more affordable than Lytle thought. He received match funding over three years from American Family's Dreams Foundation to help make his scholarship possible.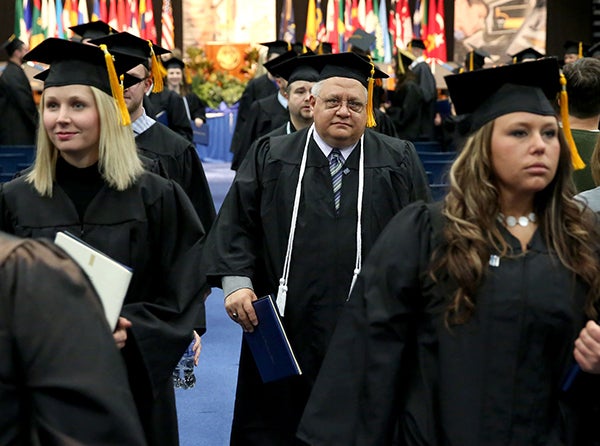 American Family's slogan is "dream fearlessly." "I want management majors to 'dream fearlessly' and work hard toward their goal of getting their degree," Lytle said.
He encourages alumni and others to consider creating a scholarship. "It does not take a lot of money to endow a scholarship at Stout, and it is a great way to give back and help young people today," he said.
The first FR Manson Dream Scholarship will be awarded in fall 2021. Stout University Foundation awarded more than $800,000 in scholarships in 2019, including 32 new scholarships.
Honoring his grandfather
The scholarship is named in part for Lytle's grandfather, Forest Robert Manson, who died in 1976, the same year Lytle first enrolled at UW-Stout.
Manson had a third-grade education "but he was a smart man. He realized the importance of education and wanted all his children and grandchildren to graduate high school, which was his measure of a complete education. Many of his grandchildren and great-grandchildren have college degrees," Lytle said.
One of them is Patrick Lytle, Dave's and Colleen's son, who graduated from UW-Stout in 2019 in real estate property management and works for Piedmont Real Estate Trust in the Twin Cities.
Lytle said that completing his degree was completing a life goal. He sees his first go-round as a college student in the late 1970s as an opportunity wasted by getting caught up in the party scene and not taking college seriously.
The second time around, he graduated with honors and a greater appreciation for continuing and higher education.
"Once your education is completed, it's really just beginning. You have to be a lifelong learner, especially in today's world," he said. "My wife and I are proud to do this little bit to give students a pat on the back or a hand up."
###
Photos
Dave Lytle
Dave Lytle receives his bachelor's degree in management in 2014, about 35 years after he first enrolled at UW-Stout.