To alumni Bruce Tietz, Mary Van Hout and Bill Flesch, University of Wisconsin-Stout is a special place.
It's where academic foundations were laid for their successful careers, where they matured socially and where they made lifelong connections and friendships.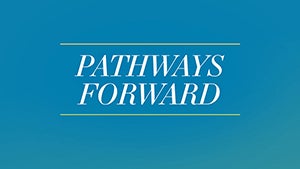 As a result, UW-Stout has remained close to their hearts and they are giving back in a special way as part of the Pathways Forward comprehensive campaign. They, along with two other unnamed donors, have issued challenge donations. All financial gifts made by June 30, 2019, to the funds they have chosen will be matched by them.
Van Hout says she is unabashedly Stout Proud —  the university slogan — but that it's not enough. "We talk about the importance of those words. To me it's taking the next step and doing something a little bit more," Van Hout said.
Why? "UW-Stout has something of substance to teach that you just can't go to any school and get," Tietz said.
Flesch believes UW-Stout puts students on a straight road to success. "I wouldn't be where I am today without the education I received in Menomonie, Wisconsin," he said.
The goal of Pathways Forward is to keep UW-Stout moving forward with private support supplementing state funding. Pathways Forward endeavors to raise $35 million in three areas: Student Experience, Learning Environments and Program Innovation.
With more than $33 million to date, Chancellor Bob Meyer has announced an "aspirational goal" of $40 million. The Stout University Foundation campaign runs through June 30, 2020.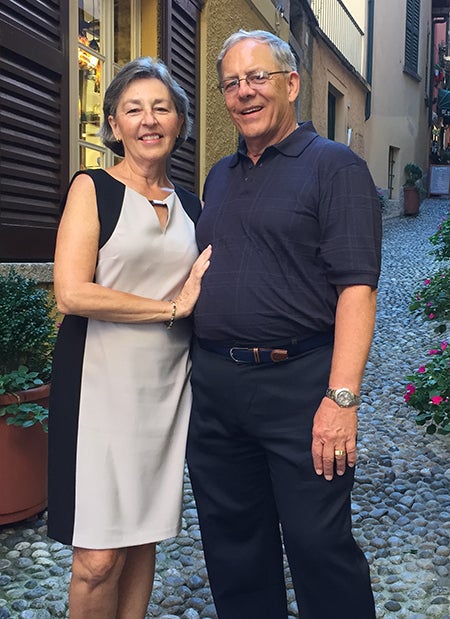 Bruce and Barb Tietz
Tietz and his wife, Barb, of Pittsburgh, have donated $100,000 to UW-Stout, with $90,000 for the Learning Environments pathway and $10,000 for the men's hockey program.
Learning Environments supports facility and technical needs in labs and classrooms. Especially at UW-Stout, Wisconsin's Polytechnic University, students need updated lab equipment to be successful, he said.
"Having worked in the industry, you know how critical upkeep and care is of equipment. We have to make sure we're giving students the right tools," Bruce said.
A native of South St. Paul, Bruce graduated from UW-Stout in 1971 in industrial arts education and with a master's in 1972 in media technology. He had a long career selling photographic and graphic arts supplies and equipment and as a technical consultant, first with Eastman Kodak and then companies that succeeded it. He ended his career in management, retiring in 1992. He also owns Bruce Tietz Consulting.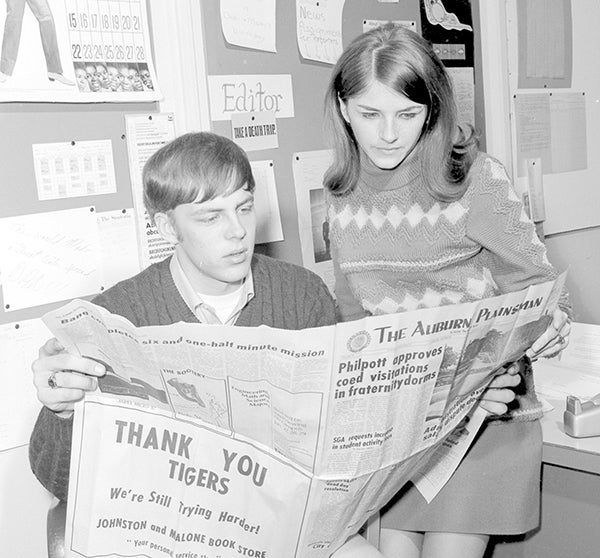 In between starting at UW-Stout in the mid-1960s and graduating, he served in Vietnam and suffered serious injuries in an armored personnel carrier explosion, spending more than four months in a hospital in Japan. "I was the lucky one," he said.
He was active in several student organizations, including as editor of the Stoutonia student newspaper. He is supporting the hockey program because he was one of six students who formed the original club team, building their own rink on Lake Menomin. That team turned into the Blue Devils of today. "Hockey is not cheap nowadays," Bruce said.
Along with the education he received, Tietz said UW-Stout was special because of the friendliness of the professors and the community. "If you didn't understand something in class all you had to do was ask your professor, 'Could I buy you a cup of coffee (for a dime)?' You could occupy your time for an hour and learn, and they would do that. They thought that was important. It was easy to learn at Stout because they made it easy."
Mary Van Hout
Van Hout has made a $10,000 challenge donation to the Program Innovation pathway, specifically student research.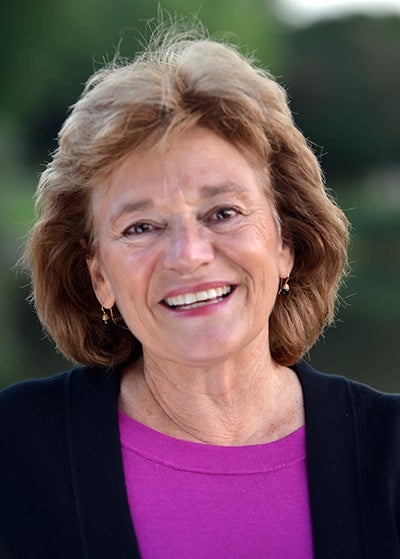 She hopes the donation will help students build confidence through special opportunities, like attending conferences. Her beyond-classroom experiences at UW-Stout, including working in an academic department, changed her life, she said.
"It's going directly for the kids. With the lack of state funding, the out-of-pocket costs for students is so high. Providing as little as $500 to students so they could travel and provide awards for research — it seems like there's so much we can do to help them," Van Hout said.
"We have to support them in whatever way we can. If we all just do a little, the results would be dramatic. Each donation makes a difference in their lives. It's a wonderful show of confidence in our students to help fund them. It feels good to be a part of a student's success," she added.
Van Hout, who is on the board for Stout University Foundation,  is a 1974 graduate in home economics education. After starting her career as a teacher and then raising her children, she had a long career as a financial adviser with the Principal Financial Group and Van Hout Advisory in Madison.
Bill Flesch
Flesch, a member of the Pathways Forward steering committee, has donated an unspecified amount to the Chancellor's Fund for Teaching Excellence and Student Success, part of the Student Experience pathway.
Donating to the fund gives Chancellor Bob Meyer the flexibility to use the money in priority areas, one of which is faculty support.
Flesch said finding and keeping top professors "who are truly committed to polytechnic education is going to be more difficult as time goes on. It's a critical time to give the chancellor that mobility. I have a lot of faith in Bob's style and ability to do it right."
He calls it "grass-roots funding of  Stout's team."
"That's the momentum for me," Flesch said. "We all look back on two or three professors who really changed our career path. They were instrumental in unwritten ways and unrecognized leaders who challenged a high school kid to get a degree and contribute to society. I think that's really underestimated. The good professors are not receiving the gratitude and respect they deserve."
Flesch, a native of Madison who lives in St. Charles, Ill., is chief development officer and treasurer for the Gordon Flesch Company. The company, based in Madison, is one of the nation's largest independent providers of office technology solutions. It employs more than 600 people in 23 Midwest offices.
He graduated from UW-Stout in 1981 in business administration. "I have a tremendous appreciation for UW-Stout. As a polytechnic, there's something to be said about teaching with real-life experiences. Being prepared to go to work was a real advantage for me," he said, noting he worked for Kohler Co. for 3½ years after graduating before joining the company started by his father.
Along with his donation and serving on the steering committee, Flesch is helping in a third way. He is working with administrators and the School of Art and Design to plan a new digital process lab, a design fabrication space to help students develop projects using 3D printers, large-format ink-jet printing, vinyl cutting and later etching.
Gordon Flesch Company will provide equipment and industry expertise to get the lab up and running. "It will have the latest and greatest equipment from the digital processing and digital imaging world. Students will be learning about digital processing at the highest level, so they'll have experience that others typically won't get. We have the opportunity to help, so we're in," Flesch said.
###
Photos
Barb and Bruce Tietz
​​​​​​​Stoutonia student newspaper co-editors Bruce Tietz and Lori Malzahn check a newspaper in 1970. Tietz, who has two degrees from UW-Stout, and his wife are supporting the university's Pathways Forward campaign.
Mary Van Hout
Bill Flesch