UW-Stout's online Bachelor of Science degree in Golf Enterprise Management (GEM) prepares you for a variety of managment positions in the golf industry and related businesses. The program is ideal if you're committed to living or working away from campus. Our unique distance learning program will prepare to manage golf course operations, ensure appropriate maintenance of golf facilities and equipment, as well as integrate the play of golf into the broader hospitality and recreation domain.
Enhanced Online Learning
Courses delivered 100% online by full-time faculty
Consistent Fall, Spring, and Summer program course offerings
Support from Adult Student Services Coordinators and Distance Librarians
Our golf industry expreinced faculty have worked to create an enhanced online learning environment that provides you with multiple opportunities to develop a broad array of management skills and knowledge. Our customized instruction format will provide you with opportunities for success in your academic, professional, and personal life.
The future success of the golf industry depends on the availability of golf business professionals who have a keen understanding of financials, marketing, economics and sales. At the same time, the tradition of golf must be maintained, with a strong focus on player development, agronomy and - most importantly - customer service. These are the skills you'll learn in this unique online program.
Value for Your Money
Customized Instruction at UW Stout can be described as programs that are designed with the adult learner in mind. If you're comparing UW-Stout's online degree customized instruction (CI) tuition to our competitors, keep in mind:
$353 per undergraduate credit — customized instruction tuition rate includes the textbook rental fee.
There are no additional university-based semester or technology fees.
Students in customized instruction programs pay the same rate of tuition regardless if Wisconsin residents, out-of-state or international participants.
There's more to value than just tuition. UW Stout also provides:
Program Director – faculty with discipline expertise.
Student Services adviser – one point of contact, providing support to students for each program.
Course sequences and matrices – know what courses are offered when so you can plan ahead.
Courses and programs may be stackable for use in another program.
Courses are flexible and convenient for working professionals.
Other universities will present costs and value differently - make sure you're comparing apples to apples.
Use the Request Information form to receive a program summary and learn more about the Bachelor of Science degree in Golf Enterprise Management.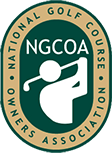 The National Golf Course Owners Association endorses the UW-Stout GEM program — the only endorsement of its kind ever conferred by the NGCOA. The NGCOA is the only trade association dedicated exclusively to golf course owners and operators. NGCOA members include owners, operators and general managers of daily-fee, semi-private, private and resort courses of all sizes. While diverse in its makeup, the association offers information and inspiration on how to operate golf facilities as efficiently and profitably as possible.
Application and Transfer Information
Application
To apply for the online Bachelor of Science degree in Professional Communication and Emerging Media – Applied Communications concentration, you need to apply to UW-Stout.
Financial Aid
Students who are attending another institution, but are planning to receive their degree from UW-Stout, may be eligible to receive aid from UW‐Stout. In these cases, UW‐Stout is considered the Home Institution and the other campus is considered the Visiting Institution.
Transfer Students
Note: When filling out the application form, be sure to make a note in the student comment section that you intend to apply to the "online program." 
Career Opportunities
The general outlook for the future of golf course businesses in the U.S. remains positive. There are over 16,000 golf courses in the U.S. alone. Minnesota and Wisconsin rank among the leading states in the country for numbers of holes per capita, numbers of players and best courses. As a result, management careers in the golf industry are accessible and the salaries are attractive. Salaries do vary with location, experience and the type of golf facility.
In addition to careers in golf course management, graduates of the GEM program will be prepared for entry-level management within corporations that manage multiple courses, golf retail businesses, tourism businesses and many other golf-related businesses.
GEM Advisory Board
2020 GEM Advisory Board
| | | | |
| --- | --- | --- | --- |
| Jon  | Behling | Senior Lecturer | H&T; UW-Stout |
| Jim  | Buyze | Head Golf Professional | Mill Run/Wild Ridge Golf Course |
| Mark  | Dahms | Small Business Owner | Stout Alumni |
| John | Sobota | Program Director | UW-Stout |
| Ken  | Fournier Jr. | Operations Director | Event Solutions LLC |
| Garrett  | Gill | Golf Course Architect | Gill Design, Inc. |
| Adam | Chandler | PGA Head Pro | TPC Twin Cities |
| Scott  | Merchant | Founder/Sales Director | GolfPipeline |
| Janell  | Reitz | Academic Department Associate | School of Hospitality Leadership; UW-Stout |
| Patrick  | Renner | President | The Wilson Group  |
| Howie  | Samb | Professor | UW-Stout |
| Kristine  | Schoonover | Professor | UW-Stout |
| Jeff  | Schwister | Executive Director | Golf Course Owners of Wisconsin |
| Brad | Powers | PGA Operations Ryder Cup 2020 | Ryder Cup 2020 |
| Steve  | Willock | General Manager | Oak March Golf, Oakdale MN  |
| Mandy  | Wolbert | Student Services Specialist | UW-Stout |