Testing and Tracing
UW-Stout has made critical changes to campus operations to mitigate the risk and spread of COVID-19. We are also implementing rigorous testing and tracing measures to better identify and track COVID on campus.
Testing Overview
All residence hall students will test weekly throughout the Spring 2021 semester. Students will be organized into daily testing cohorts to more effectively manage traffic and testing operations.
Instructions and links for scheduling a testing time and completing a pre-screening questionnaire will be sent by University Housing to residence hall students. Please check your Stout email regularly for any updates or additional information.
| Monday | Tuesday | Wednesday | Thursday | Friday |
| --- | --- | --- | --- | --- |
| North and FH | Wigen and Red Cedar | AFM and South | CKTO and JTC | HKMC |
Contact tracing
If individuals test positive, contact tracers will work with the student to identify and connect with individuals who may be considered a close contact. It is important to answer calls from the contact tracers. No personal data will be shared with anyone other than Public Health or their designees.
Isolation or Quarantine Requirements
Pending a student's symptoms and the immediate results of their antigen test, they may be asked to take an additional PCR test.  These results can take between 72-84 hours to return to the student. The type of test and the results will determine if someone needs to be in isolation or quarantine, as well as the length of time that they should do so.  This is a general guide for when a student is asked to take a PCR test: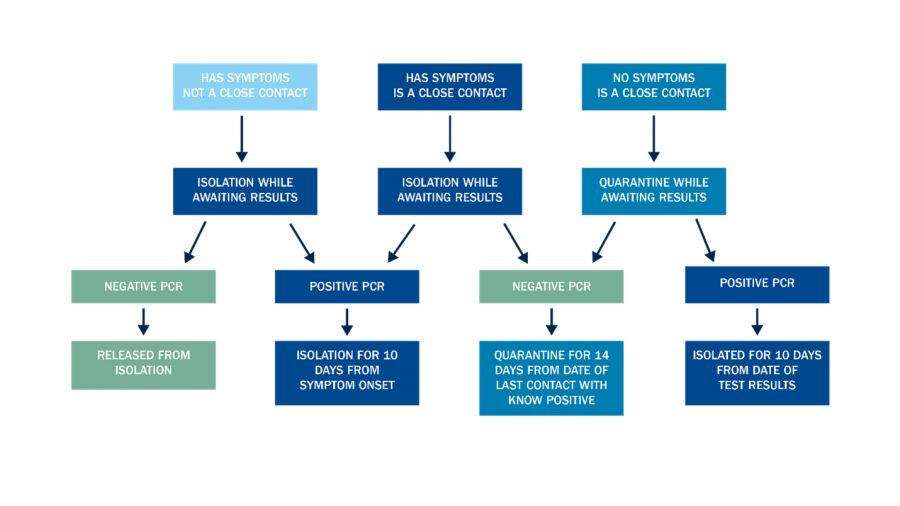 Isolation or Quarantine Protocol
When a residence hall student has been directed to temporarily move to a new living space for isolation or quarantine, they will receive an email from University Housing that details:
Where to go, a map to get there, and a packing list of what to bring

Expectations regarding their move to their temporary space

Several contact phone numbers for various types of assistance (including 24/7 support)

Instructions on how use the Transact Mobil Ordering App to order and have meals delivered outside the door, ready to be warmed

Instructions on how to join a virtual isolation or quarantine support group offered by the Counseling Center

Information regarding their mail and packages, how to dispose of their garbage, how to secure a thermometer if they didn't bring their own, and how to get other items they may have forgotten
Students moved into temporary isolation or quarantine spaces will also find additional handouts in their rooms, as well as a complementary grocery bag sponsored by University Dining with food items for the first night of their stay.
Student Health Services staff, a contact tracer, or Weber Health will provide an initial check-in call as well as approval for the student to return to their assigned room when it is safe to do so. 
Frequently Asked Questions
What's the difference between antigen and PCR tests?
Antigen tests identify the presence of certain proteins on the surface of the virus. Results can be provided within a few minutes to allow quick identification of probable COVID-19 cases. A positive antigen test means you likely have COVID-19 and you will need to confirm with a PCR test with Student Health Services.
Students with positive antigen tests will receive information about isolating and scheduling a PCR test.
PCR tests detect the genetic material of the virus that causes COVID-19. This test is highly sensitive and specific and is considered an accurate diagnostic test. A positive PCR test means you have COVID-19 and you will be directed to begin the isolation process.
Why should I get tested if i'm not symptomatic?
Even if you are not experiencing symptoms at this time, you can get tested to help keep our campus community safe. It is important to realize that you can be infected and spread the virus but feel well and have no symptoms. 
What do I do if I test positive?
Students who test positive for COVID-19 or who are known to be a close contact with someone who tests positive will receive the necessary information from our testing team or a contact tracer.
They will be temporarily relocated to one of our quarantine or isolation spaces on campus or have the choice to go home.
The on-campus spaces are appropriately staffed, supplied, cleaned and disinfected, and distanced from the general resident population.
What happens if my test is negative?
Good news! It is unlikely that you have COVID-19.
Practice preventative measures to protect yourself and others
Wash your hands often with soap and water.

Avoid touching your eyes, nose and mouth with unwashed hands.

Clean all frequently touched surfaces such as doorknobs, keys, phone, laptop, etc.

Stay at least six feet away from others and wear a cloth face covering.
If you are a close contact of someone with COVID-19, you still need to complete your full 14-day quarantine before returning to work or school.
What can I expect on the day of the test?
Go to the Johnson Fieldhouse (enter at West entrance next to lot 4) and follow signs for antigen testing.
 For this process to function smoothly, it is critical that you pay attention to the date and time of your appointment.

Other things to note:
Bring your ID
The testing, results, and any consultation should take approximately 45 minutes
Depending on the results, appropriate information and medical advice will be presented
What if I need to leave campus for a while?
If a resident will be home or otherwise away from campus for an extended period of time, they do not need to continue testing.  However, they must indicate they have left campus through the Extended Stay Away form located on the Housing Gateway when they leave campus.  To your status, follow these instructions:
After you leave campus, go to the Housing Gateway and select "COVID Testing."  This screen will show you the date you last tested.
At the bottom of this screen, click "Submit Update to Testing Record."
Input the date you plan to return to Housing and brief description as to why you'll be away.