Congratulations to our upcoming graduates! We are so proud of all they've accomplished in their time at UW-Stout, and we're excited to see what their futures bring. If your student is graduating this May, it's nearing the time to get ready for the ceremony.
The Grad Fair will be held on Thursday, April 8 from 9 a.m. to 2 p.m.
Due to social distancing requirements, students must sign-up for a time to attend the fair.
Here are things they need to know: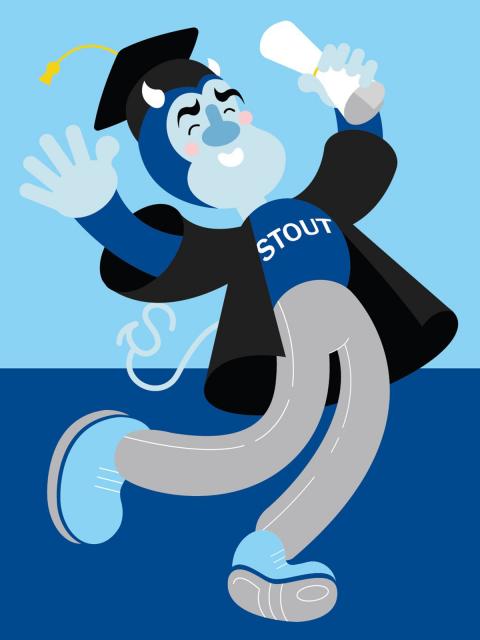 They can pick-up their diploma cover (if they're not participating in person), get their honors cordons if applicable, purchase commencement regalia, take professional headshots with Empire Photography and wrap up any senior check-out requirements.

After the fair, materials can be picked up at the Memorial Student Center Service Center desk.
If your student is unable to attend the fair because they're distance learning, on co-op or internship, student teaching, or for other reasons, they can request their items be mailed.
The last day to order regalia online is Monday, April 12
Your student can purchase regalia for the ceremonies or for their personal celebrations, through Stoutfitters, our campus store located in the Memorial Student Center or online through our preferred vendor Herff Jones.
Graduation ceremonies will be held Saturday, May 8
Your student can check their Stout email for times and details for their ceremony.
And virtual is still an option. We understand that some students may not feel comfortable with in-person ceremonies. If your student chooses not to participate, we will be posting on the commencement website the recordings of all speeches as well as a virtual name reading for those not in attendance to celebrate at home.
All students who applied for graduation through Access Stout by March 26 will be included in the print and digital commencement program.
Students who would like to submit a photo to be used in the virtual ceremony must do so by Monday, April 12 at noon.