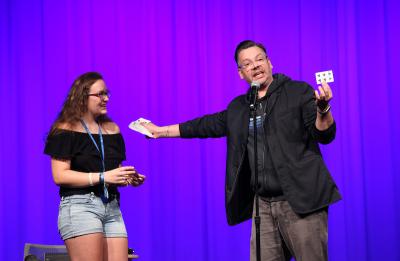 For many students, college is their first experience of freedom.  After high school graduation money runs out and parent's patience with "help I'm out of money" emails wears thin, students often turn to on-campus jobs as a source of income.  Resistance to on-campus work is understandable, but what many students don't realize is that there are more opportunities and a greater variety of jobs available than one may think. 
Part of the appeal of a college education is that it will hopefully provide more options post-graduation to pursue areas that we find interesting, stimulating, and meaningful.  What if students could help develop and focus on their interests while on their way toward this goal?  Blue Devil Productions provides this option, serving as an alternative to traditional student on-campus jobs. 
Blue Devil Productions is the campus-wide programming board that selects and produces over 55 events and activities each year for Stout students and the surrounding community.  My passion for music and everything that revolves around it led me to Blue Devil Productions back in January of 2008.  As a new transfer student, I suddenly found myself surrounded by people who possessed this same level of interest and excitement for music, film, and other forms of entertainment. 
Students working for Blue Devil Productions are given a tremendous amount of freedom, and have to manage a high level of responsibility as well.  Budgets, artist contracts, performer agents and agency groups; these are all responsibilities that students face as a part of BDP.  Even in my busiest moments, I never was deceived into thinking any of this was work-for-work's-sake.  It was refreshing to see my peers feeling the same way--happy to put in time toward something they got enjoyment and a sense of accomplishment out of.  The result was a product that the board felt invested in, and fellow students had a say in.      
Blue Devil Productions is just one example of a multitude of options available to Stout students.  Organizations like the Stout Student Association, Inter-Residence Hall Association, and Stoutonia (our campus newspaper) parallel with the opportunities held by Blue Devil Productions.  Students motivated to influence decisions made on campus will expand their leadership skills through these organizations.   All of these jobs encourage working with others, and perpetuate positive work habits that translate to real-world situations.
So when you are encouraging your son or daughter to take initiative in finding work on campus, remind them that there may be more available than what meets the eye.  Part of the freedom that students should embrace is the freedom of choice; to pursue things that stimulate their interest, and provide a means for sustaining that independence and sense of self.  For more information on Blue Devil Productions please visit bdp.uwstout.edu