As the leaves change and the first signs of snow appear, the fall semester at UW-Stout is fully underway. These seasonal changes also mean the arrival of mid-terms and finals week. A busy class schedule could leave your student wanting extra support.
And although they'll never admit it, they may be missing home.
These moments create opportunities to offer your student extra encouragement. University Dining's Gifts from Home program supports these moments. We offer packages for birthdays, holidays, study encouragement, or simply to show you care.
Gifts from Home offers five unique care packages perfect for any of these occasions.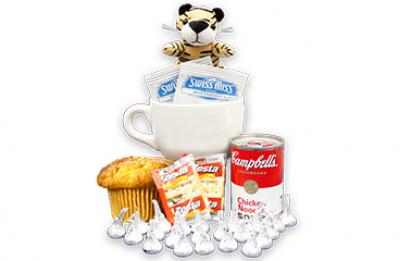 The Decorated Cake package or Ginormous Cookie package makes a special birthday surprise. Both are customizable to include a personalized message.
The Exam Kit package includes an assortment of perfect study fuel snacks.
The Fruit Basket package includes seasonal fruit, cheese, and crackers.
The Mug O' Hugs package includes a 24oz ceramic mug, soup, Hershey's Hugs, and more. It's the perfect package for brightening up any day.
Gluten-free options are also available within the individual packages.
We deliver Gifts from Home packages to student dorms Monday through Friday. This convenient service ensures your gesture arrives fresh and timely.